Vanessa Marquette
Partner - Attorney at Law
Vanessa Marquette, attorney at law, is a partner in the Banking and Finance Practice Group of our Brussels office and a member of the firmwide Restructuring & Insolvency team. She is recognized for her expertise in Banking and Finance with a focus on international finance law, regulated financial services, insolvency and restructuring, capital markets, sustainable finance and banking litigation.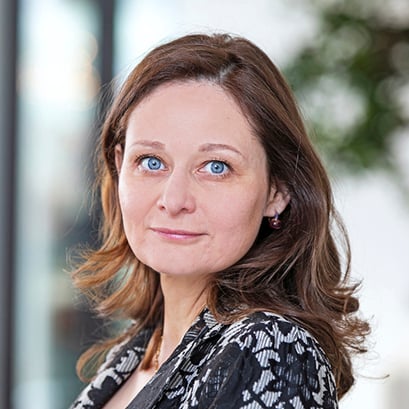 Brussels
French, English, Dutch
Vanessa Marquette assists financial institutions, payment services providers, funds, insurance companies, listed companies as well as non-regulated entities on all financial regulatory matters and compliance. She accompanies clients in the evolving environment of sustainable finance and digital finance. She has a broad experience in the drafting, negotiation and enforcement of all type of security interests with specific expertise in cross-border issues. She handles public M&A transactions and M&A transactions in the banking and insurance areas.
Memberships
Scientific Committee of the European Society for Banking and Financial Law Europe (A.E.D.B.F. Europe), 2018
Université libre de Bruxelles, lecturer, International Finance Law, 2015
Scor, Non-Executive Director, member of the Audit Committee, of the Strategic Committee, of the Risk Committee, of the CSR Committee and of the Nomination Committee (France), 2005
Brussels Bar, 1995
Women on Board
Guberna
Qualifications
LL.M. in International Law, University of Michigan Law School (USA), 1998
Summer Joint Program – Orientation in U.S.A. Law, University of California and Berkeley University (USA), 1997
Master of Economic Law, Université libre de Bruxelles (Belgium), 1995
Law Degree, Université libre de Bruxelles (Belgium), 1994
Publications
Marquette V. and Delwaide S. (2022) « Finance durable : un pas de plus vers l'intégration transversale des considérations de durabilité dans les services d'investissement », Forum financier / Droit bancaire et financier, 2022/1, p. 25-39.
Marquette, V. (2021), « L'exclusion des services financiers dans la réglementation des clauses abusives entre entreprises", R.D.C-T.B.H., 2021/2, p. 171-190.
V. Marquette and S. Delwaide, « Règlement sur la taxinomie, règlement transparence et règlement sur les indices durables : l'Union européenne pose les premiers jalons du «green deal» », D.B.F.-B.F.R., 2020/3, p. 190-221.
A. FORIERS, S. HIRSCH, V. MARQUETTE, « Les offres publiques d'acquisition, 10 ans d'application de la réglementation », Brussels, Larcier, 2018, 318 p.
V. Marquette, « Le règlement n° 2015/848 relatif aux procédures d'insolvabilité : les principales innovations en matière d'insolvabilité communautaire »,R.D.C.-T.B.H., 2017/1, p. 7-33.