Energy & Infrastructure Regulatory
Energy and Infrastructure activities are carried out in highly regulated environments. Regulations may vary from tender criteria or zoning and permitting requirements to sector specific regulations on amongst others tariffs, quality of services and technical conditions. On the one hand, the magnitude and intensity of the applicable rules and regulations may at times feel overwhelming and be a barrier for, or slow down, the roll-out of initiatives and the development of new projects. On the other hand, a good understanding of the regulatory framework allows you to shape your position in transactions and may give you an edge in competitive situations.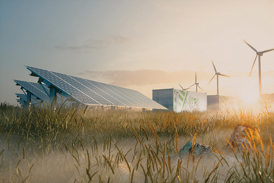 Seminar on Dutch implementation of new EU energy measures
On Wednesday 30 November 2022 our Energy regulatory and tax experts will be discussing how the Netherlands intends to take the far-reaching measures set out in the EU Regulation 2022/1854 and how this may impact companies active in the Netherlands.