30 years of being your trusted partner in Luxembourg

"30 years ago, tax was in the driver's seat, and the lead partners were tax specialists," he said. Loyens & Loeff built and maintained its lead in Luxembourg in this area thanks to its team of experienced tax lawyers and tax advisers. To this the firm has added deep layers of expertise in other fields, such as the major role it now plays in the local fund ecosystem.
Growth on the fund side has been so impressive that a couple of years ago the firm officialised the status of its multidisciplinary investment management practice. This group works holistically, dealing with everything from fund formation and the regulatory side, through to finance and tax. When necessary, they are helped by their in-house fund litigation specialists.
This team features more than forty lawyers and six dedicated partners out of a total office headcount of 230. "This innovation resulted from increased requests from clients," explained Mr. Meyers. "Given the increased complexity and sophistication of the alternative fund space, it became clear that an integrated and collaborative approach is the only way to provide smart solutions."
The demands in respect of each alternative investment strategy require a tailor-made solution to meet unique structuring and tax challenges, particularly when managing international assets. This practice adds to the firm's reputation as a leading alternative funds specialist in Luxembourg, which itself is the leading global cross-border player in this space.

Working together makes the difference

It wasn't always this way. When the Netherlands-based international law firm Loyens & Loeff decided to open a practice in the Grand Duchy, it was as a tax advisor rather than a fully fledged law firm. This was in the 1990s when international corporate structuring was a largely uncontroversial part of business life. This all changed with the global financial crisis, and both the firm and Luxembourg have had to adapt. "We live in a democracy, so that's how it should be," commented Mr. Adriaansen.
Feeding into this is the firm's unique-in-Luxembourg fund litigation expertise. They have and continue to deal with some of the high-profile cases that resulted from the global financial crisis, including former Luxembourg fund directors being sued in the wake of the Madoff fraud. In cases such as these, Loyens & Loeff Luxembourg works alongside colleagues from other major legal firms in global financial capitals.
"The department was founded during the crisis, but it has grown as we follow market trends," said Véronique Hoffeld, Head of the Litigation & Risk Management practice. "The fund sector has grown and become more complex, plus there is corporate litigation, which did not use to be there when structuring models were also less complex," she added.
The firm's banking and finance practice is also critical to this success and has flexed with the requirements of the local market. "Increasingly we have focused on the work of private equity firms, both on the lender and sponsor sides, while still serving financial and industrial groups as we have done from the beginning," noted Anne-Marie Nicolas, the department's Lead Partner. The transactions carried out in the alternative fund area can be complex, particularly regarding private equity firms working cross-border seeking to negotiate favourable deals.
"It became clear that an integrated and collaborative approach is the only way to provide smart solutions."
In the wake of the Covid market decline, Ms. Nicolas has witnessed a sharp increase in international distressed and acquisition finance, as well as debt restructuring. She also expects that boards will increasingly seek advice around liability and reputational risk in a more aggressive creditor environment where crisis management is frequent. The banking and finance practice strengthened its financial regulatory and capital markets teams, which have grown substantially. This was in response to increased scrutiny and an increased volume in regulatory and reporting obligations in the financial and capital markets. Brexit has added further complexity, with businesses aiming to maintain access to the EU internal market continuing to seek new structures within the EU to ensure continuity of service.
There are overlaps here too with the work of the Corporate and M&A Practice headed by partner Frédéric Franckx. "Previously the main role of the corporate experts was to support and implement tax structures. This has changed over time to become a true M&A practice, involving multinationals and private equity firms, working on technically complex files in collaboration with our fund experts," he said.
"The Dutch DNA of our firm means we have very flat hierarchies," said Mr. Meyers. "This helps a lot in the way we work, the way we are integrated, the way our teams collaborate." This dynamic is central to how the firm manages to grow and differentiate itself in a competitive landscape.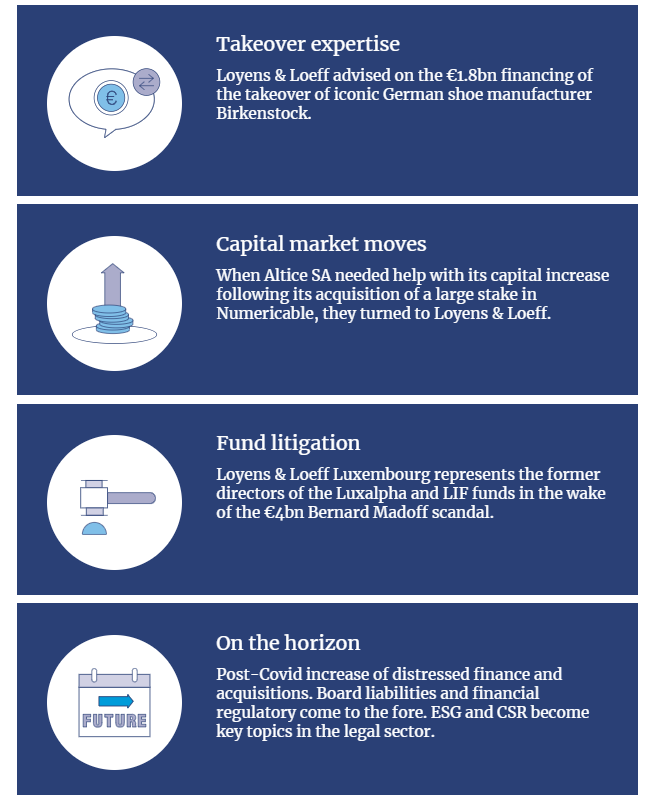 This article was published first by Paperjam.